EcoFilter® biotrickling filter
High-performance, low-maintenance biological treatment featuring EcoBase® structured synthetic media, capable of treating very high or very low concentrations.
1 OF 4

1. Foul air entry
Our EcoFilter units are capable of treating very high or very low concentrations of pollutants. After polluted air is gathered and centralized, it is forced into or pulled through the EcoFilter vessel. As with all other aspects of the systems we build, one size does not fit all. The way foul air is collected and transported for treatment is highly dependent on the unique schematics of your site.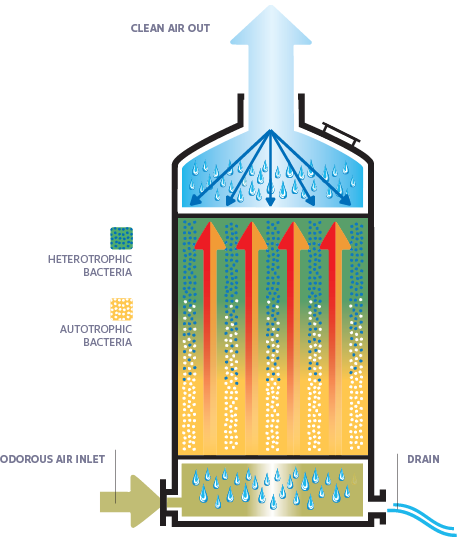 2 OF 4

2. EcoBase media
Air entering the EcoFilter vessel travels upward through our proprietary EcoBase synthetic structured media—they key to our biotrickling filter technology. EcoBase synthetic media is far more advanced than traditional random media or organic media and never needs to be replaced. In this way, EcoFilter biotrickling filters significantly reduce cost of ownership while offering superior performance.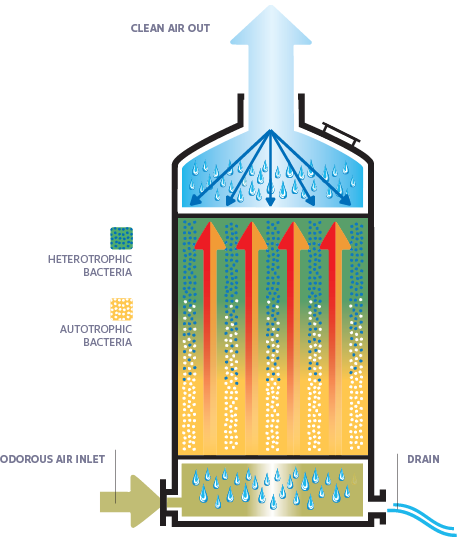 3 OF 4

3. Biological treatment
EcoFilter biotrickling filters host trillions of microorganisms that consume unwanted compounds. Irrigation water introduced at the top of the reactor trickles down through the EcoBase media, sustaining the environment the microorganisms in the vessel need to thrive and rinsing the byproducts of metabolized compounds toward a drain in the reactor. EcoFilter units support greater biological diversity inside the vessel, allowing you to better target unwanted compounds for removal. BioAir Solutions provides EcoGrow® nutrients to keep the microorganisms healthy and thriving.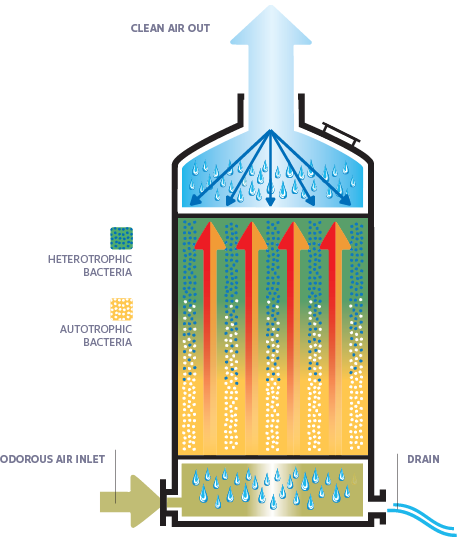 4 OF 4

4. Clean air released
After treatment, the air is released through a vent at the top of the EcoFilter vessel. Performance tests routinely show these systems eliminate over 99% of the offending compounds from impacted air. After the EcoFilter biotrickling filter is installed at your site, our specialists will start it up for you and train your staff on its operation and maintenance. Then, a couple weeks later, they'll return to conduct performance tests to make sure your system is working the way we promised it would. If it isn't, we won't quit until it is.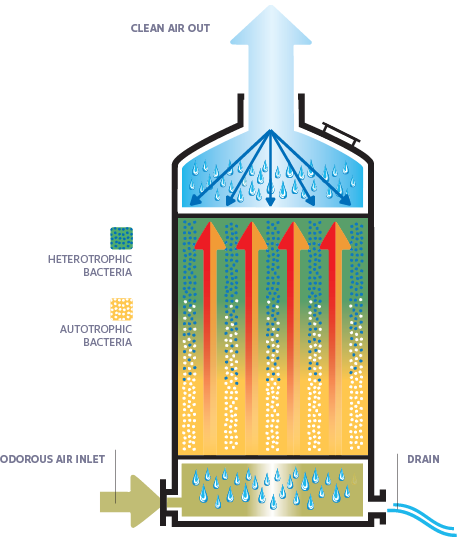 Key advantages
1
Significantly reduced environmental impact.
2
Custom design fits your site's exact needs.
3
Higher treatment capacity means smaller footprint.
4
No expensive chemicals or carbon replacement.
5
Easy to operate and affordable to maintain.

Popular applications
BioAir's EcoFilter biotrickling filter offers superior performance at lower cost and reduced environmental impact. Although they're commonly used to treat hydrogen sulfide (H2S) odors at wastewater treatment plants or at food and beverage processing facilities, we'll recommend these versatile systems to treat almost any industrial odor or emission problem if the situation allows. We love recommending EcoFilter biotrickling filter systems because they're a truly sustainable odor and emission control solution.




Explore other BioAir products
BioAir Solutions offers many different odor and emission treatment options, each tailored to the unique challenges you face.